AAA MIAMI LOCKSMITH, INC has been set up 3/10/2004 in state FL. The current status of the business is Active. The AAA MIAMI LOCKSMITH, INC principal adress is 217 NW 36 St, MIAMI, FL, 33127. Meanwhile you can send your letters to 217 NW 36 St, MIAMI, FL, 33127. The company`s registered agent is CASTRO DIEGO A 217 NW 36 St, MIAMI, FL, 33127. The company`s management are President - Castro Diego A, Vice President, President - Guadamuz Maria A. The company annual reports filed on Annual reports – 1/6/2016.
Company number
P04000043949
Company Type
Domestic for Profit
Last activity date
not available
Date Of Incorporation
3/10/2004
Additional information
DBA Name
AAA Miami Locksmith
---
Business Location
217 NW 36th St., Miami, FL, 33127
---
Description
AAA Miami Locksmith is a cutting edge locksmith, taking the industry to the next level. Not only is every effort underway to ensure the safety of our customers, but we're doing it while helping the environment by using a 95% recyclable and eco-friendly vehicle. Our Smart Car is equipped with all the necessary tools to get the job done, without taking a toll on Mother Nature.
Photos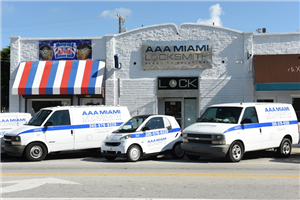 AAA MIAMI LOCKSMITH, INC Principals
---
---
Last Annual Reports
Registered Agent
Agent Name
CASTRO DIEGO A
(p)