JAMES WORLES FENCING LLC has been set up 9/26/2016 in state FL. The current status of the business is Active. The JAMES WORLES FENCING LLC principal adress is 9723 5TH AVE, ORLANDO, 32824. Meanwhile you can send your letters to 9723 5TH AVE, ORLANDO, FL, 32824. The company`s registered agent is WORLES JAMES C 9723 5TH AVE, ORLANDO, FL, 32824. The company`s management are Manager - Worles James C. The last significant event in the company history is ADMIN DISSOLUTION FOR ANNUAL REPORT which is dated by 9/22/2017. This decision is take in action on unknown.
Company number
L16000178606
Company Type
Florida Limited Liability
Last activity date
not available
Date Of Incorporation
9/26/2016
Additional information
DBA Name
James Worles Fencing LLC
---
Business Location
9723 5th ave, Orlando, Florida, 32824
Open hours
7:00am - 6:00pm
---
Description
New fence installation & repair old fences.
Photos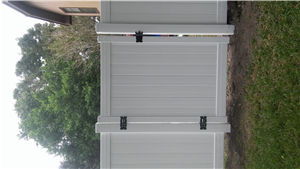 JAMES WORLES FENCING LLC Principals
---
Registered Agent
Agent Name
WORLES JAMES C
(p)
JAMES WORLES FENCING LLC Events
9/22/2017
ADMIN DISSOLUTION FOR ANNUAL REPORT
---